Onze passie in praktijk!
Zo zien wij, Javie en Astrid, ons bedrijf:
Our passion in practice!
This is how we, Javie and Astrid, see our company:
Bewustwording – Bewustzijn – Vitaliteit – Kwaliteit van leven – Duurzaam
Awareness – Consciousness – Vitality – Quality of life – Sustainable


Wij – Javie Verhoef & Astrid van der Does – ontvangen je graag in onze praktijkwinkel aan de Koninginnelaan 19 in Soest als je interesse / belangstelling hebt in:
We – Javie Verhoef & Astrid van der Does – would like to invite you in our practice store at Koninginnelaan 19 in Soest if you have interest in:
Kom ervaren
Wat wij met jou willen delen is veelomvattend en divers. We bieden producten en diensten op het gebied van:
Vitaliteit
Bewustzijn & Bewustwording
Come Experience
What we want to share with you is comprehensive and diverse. We offer products and services in the areas of:
Vitality
Awareness

Javie is in 2007 in aanraking gekomen met vitalizers en heeft ruime ervaring met toepassingen van vitalizers op koi vijvers, woningen en bij bedrijven.
Astrid heeft meer ervaring met het gebruik van gevitaliseerd water en is gespecialiseerd in de 'kunst van het aanraken'
Beiden zijn wij sinds 'jaar en dag' gefascineerd door mineralen. Met Energy Flows praktijkwinkel komt onze passie en werk samen.
Javie came into contact with vitalizers in 2007 and has extensive experience with applications of vitalizers on koi ponds, homes and at companies.
Astrid has more experience with the use of vitalized water and specializes in the 'art of touching'
Both of us have been fascinated by minerals since 'year and day'. Our passion and work come together with Energy Flows practice store.

Natuurlijk vertellen wij je graag onze ervaringen op het gebied van Vitalizers, Gevitaliseerd water of Body-Mind-Sessies.
Wij laten je echter veel liever zelf de ervaring beleven. Mede daarom zijn we een praktijkwinkel begonnen waar je:

Of course we would like to tell you our experiences in the field of Vitalizers, Vitalized water or Body-Mind-Sessions.
However, we would rather let you experience the experience yourself. That's why we started a practice store where you:

Adres Energy Flows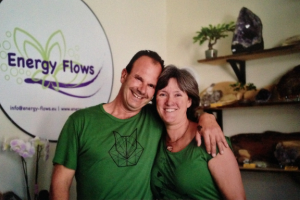 Energy Flows praktijkwinkel
Koninginnelaan 19
3762 DA Soest
Open op:
Vr. en Zat. van 10 – 17 uur